While see vacations are about to end in some places by the end of summer, they are about to start in Marsa Alam, another spectacular red sea town, located about 270 kilometers south of Hurghada. Marsa Alam is not too famous like Hurghada but definitely it has its own charming attractions and a new place where you can spend your red sea holiday. Visitors will enjoy pristine diving spots, Al-Nayzak Pool, Safari trips, fishing trips, and a lot more to discover. Here you will find at least 7 reasons encouraging you to travel next year to Marsa Alam.
Good Weather For Swimming
Marsa Alam is hot in summer, but the sea has its coolness effect on the weather. It is distinguished by its warm weather at the beginning of winter, unlike other places, people can enjoy the warm sea. The average maximum temperature ranges from 28c to 30c degrees by the end of October in the autumn season.
Wonderful Marine Life In Marsa Mubarak
If you wish to explore wonderful marine life and coral reef islands under crystal-clear water, you can have a snorkeling or scuba diving trip to Marsa Mubarak bay near Port Ghalib Marina. The underwater life is still well preserved and amazing. To enjoy watching marine life, you can stay in a hotel near Marsa Mubarak. The top recommended hotel located in Port Ghalib is called The Three Corners Fayrouz Plaza Beach Resort, a 5-star luxurious resort in Marsa Alam where you can find the best diving and stay experience.
[[Book Your Transfer From Marsa Alam Airport To Port Ghalib]]
This is the website new year's gift! A Red Sea watercolor free calendar. Click to download
Check Also: Egypt Airport Transfers: How To Get From Airport To City Center
Swim With Dolphins In Sataya Reef
Some snorkelers believe they are lucky to meet one or two dolphins, but in Sataya Reef, you can snorkel or swim with a great number of dolphins that can reach 50 or 60 dolphins. Sataya Reef or the Dolphin House has a huge number of spinner dolphins who are used to playing with humans.
Click here to book a trip to Sataya Reef: Sataya Dolphin House Snorkel Trip – Marsa Alam.
Watch Dugong And Green Sea Turtles In Abo Dabbab
A tour can be taken to Abo Dabbab, also called Dugong bay, as the dugong or sea cow lives there, this strange sea creature is at risk of extinction. Abo Dabbab is famous too for the amazing green sea turtles and colorful life underwater.
Book a tour to Abo Dabbab: Abu Dabbab Beach Full Day Trip with Turtles.
Check Also: Top Stunning Dive Sites in Egypt For All Scuba Divers
Al-Nayzak Pool
8 km away from Marsa Alam, located a distinguished natural wonder pool called Al-Nayzak. It is believed that the pool is shaped when a meteorite hits the coast, this is why it is called Al-Nayzak or the Meteor lake. This natural pool filled with turquoise water is meters deep and safe for swimming and diving as its water comes from the sea currents. Al-Nayzak pool is a must-visit in Marsa Alam, close to Samadai Reef, and 20 minutes from Port Ghalib. The nearest hotel to Al-Nayzak beach is Ecolodge Bedouin Valley Camp and Diving Club. If you are Looking for an unforgettable Bedouin experience.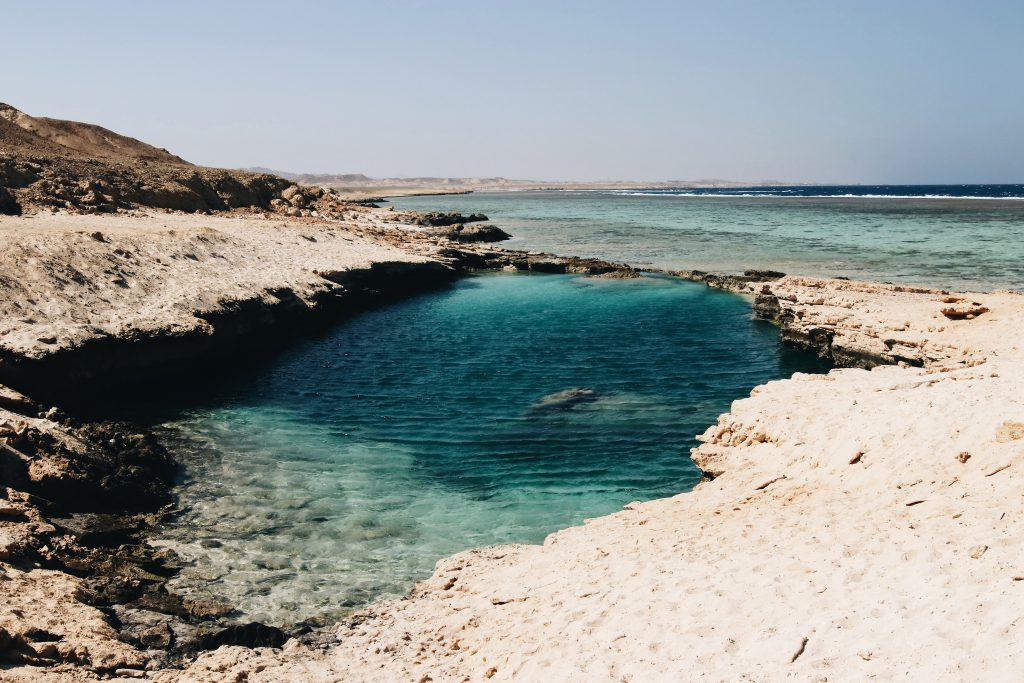 Wadi Gemal National Park
Those who seek adventure, Wadi Gemal is the place. There are Safari excursions include riding camels, driving in the Sahara, and spending the day with the Bedouins. Wadi Gemal is a national park and includes also monuments from the Roman age like the old emerald mining settlements. Shams Alam Beach Resort in Abu Ghusun is the nearest to Wadi Gemal and has a special building design reflecting Islamic architecture. Cultural trips are arranged by the resort to visit the camel market in Shalaten town.
Book a tour to Sharm El Luli And El Qulaan: Sharm El Luli Snorkeling Tours.
One Day Tour To Luxor Or Extended Tour To Aswan Or Cairo
Marsa Alam is approximately 4 hours away from Luxor, so a day tour can be organized to Luxor to visit different ancient sites like Al-Karnak Temple, The Valley of Kings, and Temple of Hathor at Dendera near Luxor. Extended tours can be organized as well to Aswan to enjoy visiting more ancient sites like the Temple of Philae and Abu Simbel. The nearness of Marsa Alam International Airport will give a chance to visitors to fly to Cairo to go to the famous tourist attractions of the capital city, not to mention the Pyramids. No wonder Marsa Alam will be definitely one of the best vacation spots in the coming years.
Book day trips to Luxor, Aswan, and Cairo:
From Marsa Alam: Day Trip to Luxor by Bus.
From Marsa Alam: Private Day Trip to Luxor by Car.
From Marsa Alam: Private Day Trip to Aswan with Lunch.
Marsa Alam: Ancient Cairo & Giza Pyramids Day Trip by Plane.
[[ Choose your best hotel and book your stay here]]
MARSA ALAM WEATHER
Sources
Egypt Travel – Al Nayzak, Turquoise for tr
–Some of the links above are affiliate links. This just means that if you choose to make a purchase, we may receive a small commission, at no extra cost to you.